This Week's Mortgage Rate Summary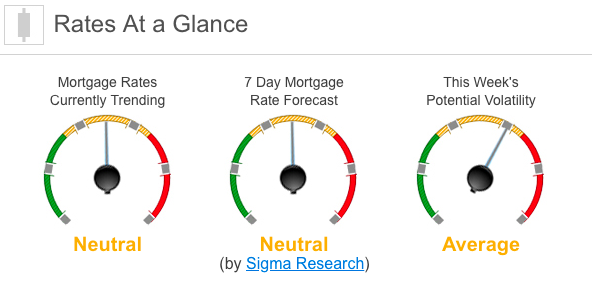 How Rates Move:
Conventional government (FHA and VA) lenders set their rates based on the pricing of Mortgage And G-Backed Securities (MBS) which are traded in real time, all day in the bond market. This means rates or loan fees (mortgage pricing) moves throughout the day, being affected by a variety of economic or political events. When MBS pricing goes up, mortgage rates or pricing generally goes down.
When they fall, mortgage pricing goes up. Tracking these securities real-time is critical. For more information about the rate market, contact me directly. I'm among few mortgage professionals who have access to live trading screens during market hours.
Rates Currently Trending:
Neutral
Mortgage rates are trending sideways this morning. Last week the MBS market remained unchanged for the week. This caused rates to move sideways for the week. We saw low rate volatility through most of the week.
This Week's Rate Forecast:
Neutral
Three Things: These are the three areas that have the greatest ability to impact mortgage rates. 1) Fed, 2)Trade and 3)Inflation.
1)Fed: Now that the FOMC statement is past us, the embargo on Federal Reserve Officials speaking publicly about policy has been lifted, and we get a big dose of speakers this week:
05/06 Patrick Harker and Charles Evans

05/07 Robert Kaplan

05/09 Jerome Powell, Raphael Bostic, and Charles Evans

05/10 Lael Brainard and John Williams.
2) Trade: After much confusion over the weekend, the Chinese delegation has officially confirmed that they are still going to physically meet in D.C. this week to continue trade talks. President Trump has threatened some additional pressure in the form of increased tariffs and that he would raise tariffs on $200 billion of Chinese goods to 25 percent on Friday from 10 percent.
3) Inflation: We will get both the Producer Price Index and the Consumer Price Index this week. Bonds will focus on the YOY Core (ex-food and energy) CPI which is expected to move up a tick to 2.1%. Bonds are very sensitive to inflationary data.
Treasury Dump: Here is this week's schedule for the Treasury auctions:
05/07 3 year note

05/08 10 year note

05/09 30 year bond
This Week's Potential Volatility:
Average
If it weren't for the trade news this morning, we'd be expecting a very low rate volatility week. The two things that are most likely to move rates and increase rate volatility is the inflation data and China trade talks.
Bottom Line:
If you are looking for the risks and benefits of locking your interest rate in today or floating your loan rate, contact your mortgage professional to discuss it with them.