This Week's Mortgage Rate Summary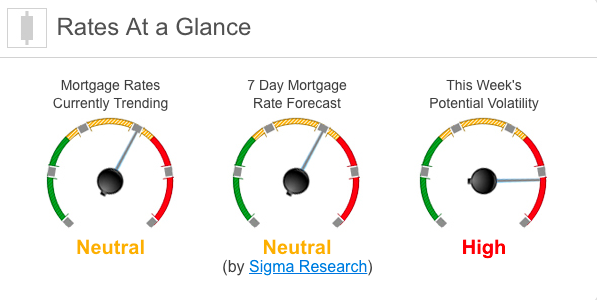 How Rates Move:
Conventional and Government (FHA and VA) lenders set their rates based on the pricing of Mortgage-Backed Securities (MBS) which are traded in real time, all day in the bond market. This means rates or loan fees (mortgage pricing) moves throughout the day, being affected by a variety of economic or political events. When MBS pricing goes up, mortgage rates or pricing generally goes down. When they fall, mortgage pricing goes up. Tracking these securities real-time is critical. For more information about the rate market, contact me directly. I'm among few mortgage professionals who have access to live trading screens during market hours.
Rates Currently Trending:
Neutral
Mortgage rates are trending sideways to slightly higher so far today. Last week the MBS market improved by +19bps. This was enough to move rates slightly lower from historically low levels. We saw high rate volatility at the end of the week.
This Week's Rate Forecast:
Neutral
Three Things: These are the three areas that have the greatest ability to move mortgage rates this week. 1) Trade War, 2) The Fed, 3) Across the Pond
1) Trade War: Last week, we saw some volatility on both negative and positive trade stories. While there is nothing scheduled for this week, bonds will continue to react to any trade news.
2) The Fed: We have a big week for the Federal Reserve that really starts on Wednesday with the release of the Minutes from the last FOMC meeting where they cut rates but had a few dissenting votes. We will hear from Fed Chair Jerome Powell on Friday as part of the Kansas City Federal Reserve Bank's annual Economic Symposium in Jackson Hole Wyoming that starts on Thursday. In addition to hearing from Central Bankers, there will be many papers and speeches by prominent economists, traders, and bankers that will get a lot of attention.
3) Across the Pond: This weekend will start the G7 meeting, which will be very important but it is outside of this week's trading. But the markets are very focused on more speculation and discussion about Germany coming to the table with some fiscal stimulus.
This Week's Potential Volatility:
High
We have a light economic data week this week. After the last couple of weeks of volatility, mostly pushed higher by trade news, we expect the same this week. Markets are all over the map recently, and until we see it let up, we'll keep anticipating a good deal of volatility.
Bottom Line:
If you are looking for the risks and benefits of locking your interest rate in today or floating your loan rate, contact your mortgage professional to discuss it with them.